Kaichi Iizuka: Empowered to Learn, Unlearn, and Relearn
by Amber Jurgensen
Kaichi Iizuka sits in the newly renovated breakroom on the seventh floor of the Gerdau North American headquarters in Tampa, Florida. A pirate-themed gameboard is on the table in front of him.
He rolls. His ship evades a series of jagged rocks. Dice throw after dice throw he navigates the cursed waters of the game.
The kraken.
Drunken sailors.
Siren calls.
Nothing stops him, much to the amazement of the colleagues he's playing against.
By the end of the lunch hour, one co-worker's ship has sunk. Another spent half the game trying to get rid of the scurvy plaguing their crew. Iizuka has won.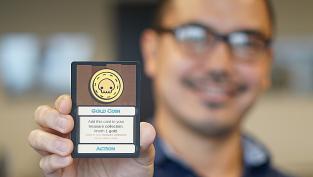 Izuka did the artwork and layout for his boardgame "Sea of Misfortunes." There are 84 card designs in the decks for the games.
But was it luck? Or was it because he designed the game?
That's right, Iizuka conceptualized and designed the board game, called "Sea of Misfortune." He started development two years ago and often invites his colleagues to test the board game during lunch so he can make improvements.
"For me, it's terrifying to bring something I've created in my own little bubble and show it to people," Iizuka says. "But everyone likes it a lot. I've gotten different feedback, which I use. Feedback is important."
Iizuka has been doing a lot of that these days: testing and getting feedback. Not just for his game but for the work he does at Gerdau.
Iizuka is a user experience (UX) designer for Gerdau's Digital Factory Team. He designs layouts for products such as websites and applications. With each design he seeks feedback from his customers and makes tweaks and changes as needed. The Digital Factory Team also uses Agile methodology for brainstorming, testing, and feedback.
Being a UX designer is a way Iizuka is able to live his passion at work. He has always loved graphic design. He even did the artwork for "Sea of Misfortune."
"I like to design concepts, how things are laid out," Iizuka says. "But I also draw characters, drawings with pencil and paper. It's cool to translate something done with pencil and paper to the digital space."
With each of the previous roles he's had at Gerdau, Iizuka has been able to reinvent himself. And even though he's now in a position that uses his talent of design, he is still pushing his limits and coloring outside of the lines to learn more.
SEEKING KNOWLEDGE
Iizuka first came to Gerdau in April 2012. He landed on the marketing team as a contractor in invoicing and quickly found a niche in electronic data interchange (EDI), something he knew little about but was inspired to learn, especially when Gerdau sought to grow the area.
EDI allows two systems using two different software platforms to communicate with each other. For example, if Gerdau creates an invoice in its system, EDI also creates the invoice in the customer's system, skipping the manual process of emailing an invoice to a customer.
"It was something new," Iizuka says. "I knew I wanted to be more on the technology side of things, and it was different for me because I was interacting with customers. I got to know their needs better."
When a position focused solely on EDI opened, Iizuka got the job.
"It was fun to learn," Iizuka says. "I love learning about different technology and how they work, so it was exciting for me."
"It felt really good at that point, that recognition of someone who was my manager letting me know there was a position out there, and there was value in me doing it versus sometimes managers don't want to let you go." – Kaichi Izuka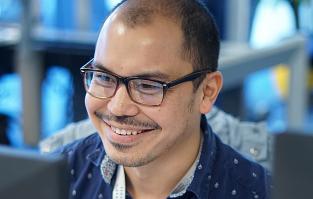 Iizuka commutes to Gerdau from St. Petersburg, the sister city across the bay from Tampa. He says, the commute isn't bad plus his favorite local brewery, Cigar City, is in Tampa.
Iizuka stayed in the world of EDI into 2018. Around the same time, the communications team moved from the people area to marketing. It didn't take long for the communications team to find out Iizuka had a talent for graphic design, and it leveraged him.
Iizuka began helping with little projects here and there: an advertisement in a trade magazine, cutting out a subject in an image from a background. Soon, a big project fell in his lap: a giant three panel backdrop for the NASCC Conference. He worked on it after hours, simply because he loved design.
And then the UX position opened.
Iizuka's manager, Jennifer Wade, brought it to his attention and encouraged him to check it out.
"Design wasn't my primary role," Iizuka says. "I brought it up to some people. I proved myself, helping out, that design was something I can do, something I was good at. It felt really good at that point, that recognition of someone who was my manager letting me know there was a position out there, and there was value in me doing it versus sometimes managers don't want to let you go."
At the end of 2018, Iizuka was hired as a full time UX designer, reinventing himself once again.
WORKING IN A MODERN FACTORY
The Digital Factory Team has many names. The team has branded itself "The Honey Badgers." And now there are two workstreams: industrial and commercial. Iizuka works on the industrial team.
It was brand new in 2018, part of digital and innovation initiatives to change mindsets and work in new ways at Gerdau to bring the old industry of steel into the future.
"It was a mixture of excitement and nervousness," Iizuka says about starting on the team. "There were completely new people around. We were still trying to determine what our priorities were and how as a team we would work together."
A big part of growing the team in the beginning days, that also still exists today, is openness. The team did a lot of ice breakers to build a safe space for ideas and created a fake sprint to explore their collective power.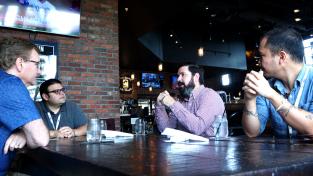 Iizuka and his team, Ben Hur de Souza, Director of Innovation and Digital, Federico Rodriguez, Full Stack Developer, and Jim, Foster Scrum Master, celebrate an accomplishment during lunch at World of Beer.
"We needed to get comfortable to feel you can throw out ideas and not get shut down," Iizuka says. "We have a very open team that can give feedback, whether positive or negative, and everyone's good with that. So that feels good."
Since its inception, the team has visited some mills. On the industrial side, Iizuka is working on a never-done-before application that will improve melt shop efficiency. He meets with teams at the pilot mill to make tweaks to the design, as well as seven Management Associates who are part of a leadership program for those just out of college.
Iizuka is also learning code to take on the role of front end development in addition to design. He can't help but reinvent himself yet again.
"Basically, I am expanding my role, and just having the freedom to do that is awesome," Iizuka says. "At Gerdau, it's become more of a learning experience where I got to learn about tech and then follow my passion. I am living my passion at work."