Erin Trentel: Empowered to Be Customer-Centric
by Amber Jurgensen
The wind whips off the whitecaps of Lake Ontario and against the walls of the Whitby Yacht Club in a quaint marina just outside of Toronto. Inside six groups of 29 people total are given instructions:
Make an animal costume for one person in your group out of anything in this room.
The challenge causes some laughter. What in the world kind of activity is that for a group of professionals in a corporate workshop?
But the thing is, this isn't a normal corporate workshop. This is Gerdau's GMAKERS Program, a nine-month intensive where a group of people from across Gerdau come together to create innovative solutions to our industry's biggest challenges. The challenges are outlined by Gerdau's executive committees, and the GMAKERS must pitch their ideas at the end of the nine months.
The costume exercise starts, and the GMAKERS scramble to find materials. One GMAKER asks to borrow a co-worker's fluffy blue coat. Most flock to a table with materials of tissue paper and scissors.
The mastermind behind the challenge is Hyper Island, a Swedish-based creative business school. Facilitators are tasked with guiding the GMAKERS throughout the nine months by helping to retrain their brains to be comfortable with uncertainty, take risks and find opportunities for intrapreneruship. There are a total of three masterclass workshops with lessons in prototyping, technical tools, ideation and, as in the case of this costume exercise, Agile methodology.
Each costume piece should be designed in a sprint, with three sprints total.
Erin Trentel, a regional sales representative, helps to create a horn for her group's unicorn. She was one of 80 applicants who sent in a submission to the GMAKERS Program in summer 2019. It's the first year of the GMAKERS Program in North America, and no one knew quite what to expect from the program. Certainly, Trentel did not think she would be turning her team member, Noah Allen, into a mythical creature.
"The group at Hyper Island, they were awesome through all the activities of connection and working together, whether it was this silly little game that was meant to be fun and sort of light, or whether it was a little more thought provoking, we all came together as a group," Trentel says of her experience so far in GMAKERS.
GOING OUTSIDE HER COMFORT ZONE
Trentel and her group are part of the Gerdau Special Steel division in North America. Their business challenge is margin improvement for Gerdau Special Steel. It's not something she normally would do in her day-to-day, but she has found a way to link it to her specialty of customer-centricity.
"I'm working on a project that is totally outside of the realm of what I've really ever worked on in my career," Trentel says. "I've been customer facing for 19 years, and I'm going to be diving into some data, into operations, costs, and understanding how costs and margin data are calculated and what are the impacts and the effects it has for and on our customers."
The first masterclass was held in Tampa, Florida, at Gerdau's North America headquarters.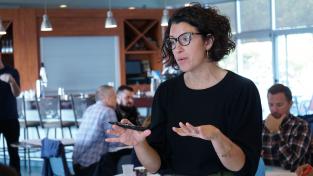 Trentel leads a discussion during a GMAKERS masterclass in Toronto.
"I really loved meeting the group. I was nervous with such a large group where many of us didn't know each other, nervous about how we were going to make a connection to then do this large scale, long-term project," Trentel says. "I feel excited. I think it's given me a good foundation for the next part of the journey."
From there, the team traveled to Toronto, to visit the Whitby, Ontario steel mill.
The third class was in Michigan, where two of our special steel mills are located. After the last masterclass, the groups will finalize their projects and present them to the executive committees to see if they are viable options for Gerdau.
"I really value that this company is continuing to not only use the project, the idea of projects, to really find new ways to enhance our business but that we do this bringing people together so that we can team build, collaborate, really be collaborative, and use it as a platform for growth," Trentel says.