Jason Mendez: Empowered to Do What is Right
by Amber Jurgensen & Clinton Johnson
Jason Mendez takes his place at half court. About 20 people, nervously clutching a basketball, had lined up before him and tried to make the shot during a break at a tournament fundraiser for the Boys Shelter in Fort Smith. But no one had succeeded.
And now it was Mendez's turn. Earlier, he had made a donation for a chance to sink the ball into the net. Could he do it?
The odds were stacked against him. His shoulder, out because of a bicycle wreck, had been further aggravated by his CrossFit routine.
The guy in front of him had airballed it. I'll probably do the same, he thinks.
He takes the shot.
In it goes.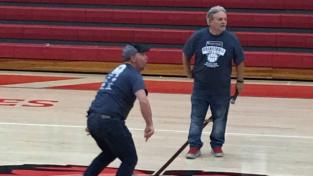 Mendez makes a half-court shot during a tournament to benefit a the Boys Shelter in Fort Smith, Arkansas.
The crowd cheers. Mendez runs around the gym, hamming it up and giving high fives to whoever is on the court.
"I never thought I would make it," Mendez says, recalling the day. "I looked up and see my plant manager right there. And it just feels good."
Contest organizers tell Mendez he won the $200 contest prize. He tells them to keep it for the Boys Shelter. That's what it's all about after all.
Mendez, a facilitator for the internal process in logistics at Gerdau's Fort Smith, Arkansas Mill, had helped organize a group from Gerdau to volunteer at the basketball tournament. Now, he's working closely with the Boys Shelter for the first time, but he's no stranger to volunteering, both with Gerdau and his church, Butterfield Assembly of God.
"It was just something in my cup," Mendez says. "Gerdau has made it simpler and easy for us to do stuff like that."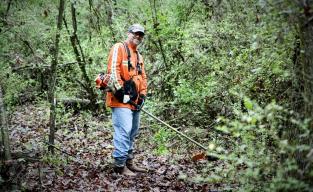 From clearing overgrowth to volunteering with kids, Jason Mendez has opened himself up to helping wherever and whenever he can. Here he clears brush at a Girl Scout camp for Day of Caring.
BEING A SERVANT
From driving a church bus to pick up kids who might need a meal and some mentorship to pulling out railroad ties that have been sitting in the mud for 20 years, Mendez has done it all when it comes to helping his community.
At Gerdau, he is part of Fort Smith's Purpose Social Responsibility Team, which existed in the past but slowly faded away. It was revived in 2019 with 17 members, plus anyone who wants to jump in on a project.
The team gets a lot of its project assignments from a partnership with the United Way. An example is cleaning a school on the other side of the river in Moffett, Oklahoma that was completely destroyed by a flood.
"We don't know 100 percent of what we're getting into but we're willing to take whatever comes our way," Mendez says. "We're not scared of anything."
"I was one of those bus kids…I had a rough life growing up. I know what it's like." – Jason Mendez
Another long-term passion project for Mendez is the mentoring program at Darby Junior High. Around 2001, he joined a mentoring team with one of his co-workers. They started with 13 kids and took them on field trips to the fire department, fishing, and even the Fort Smith Mill.
Eventually, Mendez took the team over, and since then it has grown to 120 kids and 30 companies who want to follow Mendez and Gerdau's example.
"Gerdau has planted a seed, and it has blossomed into so many different flowers," Mendez says.
Mendez has several inspirations for his desire to give back. The first is the Bible. The second is a book he was given by Gerdau called "The Servant" by James C. Hunter.
"My purpose is, the Bible tells you to be a good steward," Mendez says. "That book ("The Servant") put a lot of things in perspective. I've gotten a lot of attributes from it."
And there's a third inspiration for Mendez: his second chance at life.
LIVING WITH PURPOSE
Two years ago, Mendez stepped on a scale. It showed 305 pounds.
"That wasn't me," Mendez said. "I could tell it was affecting my life."
And so he began making big changes. He lost weight. He started working out. He did a 5K. Then a marathon in January 2019. Now he is back on track, competing with Shawn Hickman, another facilitator in logistics who likes to bike.
Together they have completed a 100-mile bike ride and like to race around a hiking trail that loops around the Fort Smith Mill.
The competition doesn't stop there. Mendez has also traveled with six other Gerdau employees in a church van to do a 226-mile race across Arkansas.
"You go out in the middle of nowhere and drop off the next runner," Mendez says. "That really brings people together. You don't forget something like that."
But just as he was getting his life back on track, Mendez found out he had cancer in 2018. The diagnosis was hard. But he kept on pushing himself to stay healthy and give more.
"The past two years really had an impact on his purpose," Clinton Johnson, a facilitator in the people area, says. "Purpose has been pretty influential in his life, and I think everyone sees it. He's always had energy but he kicked it up a notch, if that's possible."
The cancer is clear now, but Mendez is still finishing his treatment. He keeps a positive attitude and his life centered around the purpose he has found.
"When I have a second chance at life, I'm not going to get down on the world," Mendez says. "I was one of those bus kids. I grew up needy. I had a rough life growing up. I know what it's like. I want to make a difference in the lives of kids. I want to uplift them to the next level. And I want to bring other people in to help. That's what it's all about. Doing our part."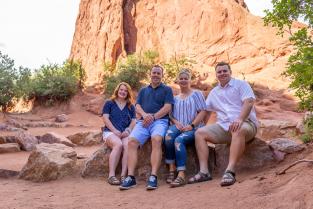 Mendez with his wife, Kristie, and two children, Jayden and Kaylee.