Michael Fan: Empowered to Be a Leader
by Amber Jurgensen and Swapnil Dave
Michael Fan has a lot of hobbies. He grew up snowboarding and skiing in the Canadian winter. He taught himself guitar. He's learning photography. He used to race Viking longboats.
And he has a secret talent.
"I know all these movie quotes," he says, laughing. "This is one of my favorites, but it's really cheesy: 'Who you choose to be around you let's you know who you are.'"
The quote is from "The Fast and the Furious: Tokyo Drift," lending even more to the cheesiness. It's said during a quiet scene, a heart-to-heart between two main characters who are watching the bustling streets of the city from the roof of a skyscraper with a soccer field on top of it.
"It's cool because when you think about it, it's actually true," Fan says.
Fan doesn't only look for the lessons in movie quotes – he's always watching for the moments of wisdom in his work as the director of business development and strategy at Gerdau and mentor with his alma mater, University of Toronto.
"I take a lot of lessons learned, and I try to multiply that with the people around me at work or even with the mentorship," Fan says.
WE ARE ALL LEADERS
To get good at anything takes practice, and Fan started fine tuning his radar for lessons 12 years ago when he was accepted into Gerdau's Management Associate Program while he was still in college. The Management Associate Program is a leadership development program for young professionals, and many MAPS, as the participants are called, go on to have successful careers at Gerdau.
To get into the program, Fan had to go through a round of interviews.
"They were destroying me with questions, and I thought, 'I'm not going to get this job,'" Fan says.
But he did and started learning about the business by working in different areas of Gerdau's recycling arm. Gerdau steel is made from 99% scrap materials, such as old automobiles and appliances, reinforcing its commitment to sustainability. He began in Gerdau's recycling yards and one of the shredders then moved into buying and selling scrap, human resources, environment and finally accounting.
Before he was a director, Michael started at Gerdau as a Management Associate.
"One of best things I learned as a MAP was that we are all leaders," Fan says. "You need to manage your career at Gerdau, manage yourself in the MAP program, you need to take charge of where you want to end up. It's a good career lesson and life lesson."
Fan felt at home in accounting with a bachelor's in commerce with a specialist in finance and economics. He wanted to get his CPA, which he did while working with the accounting group.
"If you ask anyone who knew me from the beginning – or this goes for anyone who is a new hire – you go from quiet, introverted, to becoming more extroverted, asking more questions, making bolder statements," Fan says. "That goes to the leaders – as long as they are open, people can grow."
And grow Fan did. He's now a director and, in addition to achieving business objectives, he also makes it a point to develop those around him as others invested in him.
"Over my career I've had many types of mentors: from an analytical perspective Sheila Orecchio, metals recycling controller, Rob Thompson (now vice president of sales and marketing) from a commercial mindset, and Chia Yuan Wang (now president of Gerdau Long Steel North America) from an operations mindset."
HOW TO BE A MENTOR
Just do it. Don't overthink it. This is one of many pieces of advice Fan likes to give as a volunteer mentor for University of Toronto. And it works.
Several years ago, he was mentoring a student who wanted to get involved in a leadership role on campus, at Fan's suggestion. She chose a wellness club. There was an opening for vice president, but she started to have second thoughts.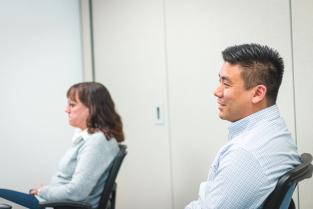 Fan says to be a good mentor you have to have patience, give feedback and be a good listener.
"When I was in school, it was just do it. Don't overthink it," he told her.
So she ran for vice president – and she won. Now she has a successful job in consulting.
"I'm hoping that confidence carried through," Fan says.
Throughout his career, there are some tips he's learned about being a good mentor – and a good boss.
One: A good mentor can recognize the good in something, even the smallest experiences.
"I help critique a lot of resumes," Fan says. "There was one student who said, 'Well, I've just worked in a café.' But I told him, 'You didn't just work in a café, you've probably spoken to hundreds of people, hundreds of customers, each day. That's something."
Two: Have patience.
Three: Give feedback.
And four: Be a good listener.
"I think leaders forget that a lot," Fan says.
"You know the movie 'Fight Club?'" Fan asks. "There's that one scene where they say, 'When people think you're dying, people listen to you instead of waiting for their turn to speak.' People know when someone isn't listening and just waiting for their turn to speak, and that hurts development."
The first thing to any relationship, whether it be mentorship or basic one-on-one meetings at work, should be getting to know someone – genuinely – Fan says.
"If you're all business, all the time, you lose that connection. If you get to take the time to get to know someone genuinely, you get to that second layer. This creates a good culture. If you have a bad culture, it'll destroy any great ideas. What do they say, 'Culture eats strategy for breakfast.'