A.J. Roessler: Empowered to Shape the Future
by Shai Johnson
"Shh, Dad's on a call," 5-year-old Wade Roessler, whispers to his little brother, Luke.
"My boys practice keeping quiet when I'm in my home office," AJ Roessler says. "I guess you can say besides work, raising babies is my hobby."
Roessler, a regional sales representative in manufacturing for Gerdau, and his wife, Courtney, recently expanded to a family of five with the birth of their 1-month-old daughter, Charlie.
"My kids know I work in the steel industry. They'll see a building and say, 'Dad's steel is in there.' I don't correct them; I've come to learn that Gerdau steel is in more places than you know," Roessler says.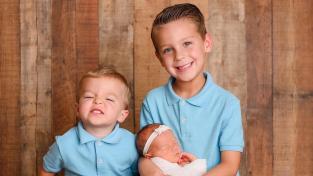 Roessler's sons are interested in his work at Gerdau.
An example of this is when Roessler's customer, Southern Bleacher, began ordering 600 tons per month in summer 2019. Such a large shipment piqued Roessler's curiosity.
He reached out to his buyer and learned that the majority of Gerdau steel would serve as the framework for Old Dominion's S.B. Ballard Stadium in Norfolk, Virginia.
Southern Bleacher fabricates, galvanizes, and ships ready-to-bolt grandstands, bleachers, and other permanent structure kits direct to outfitters.
"It felt great to know that I had something to do with the construction of the stadium," Roessler says. "I always wondered where our steel ended up. Now I can ask. In my current role, I'm the face of the company, and it's my job to ask questions."
Before joining the sales team, Roessler worked in Midlothian in the mill.
"Here at Gerdau we are creating and shaping the future with our steel and with our people," Roessler says. "Starting out in the mill taught me a lot about how steel is made, but it also taught me that our steel is helping our customers create and shape their very own futures. I enjoy sales because it is my job to get to know our customers and conversations usually end up talking about our family and our kids. We are all working hard to create a better future for our loved ones."
A VARIETY OF CUSTOMERS, A VARIETY OF OPPORUNITIES
To everyday society, steel has particular connotations. People say things like "nerves of steel," suggesting steel is undeniably strong – but also inflexible. And although steel is strong, it is not inflexible. With different metallurgic mixes, one could even go so far to say it's creative.
Understanding end-use application, length and grade allows Roessler to offer unique solutions that save his customers time and avoid scrap lost. And Roessler's customers don't only use steel for buildings.
"I hold the national account for utility trailers" Roessler says. "I break down the price into dollars per foot and dollars per piece, so my customers don't have to do those calculations. Buyers are appreciative of the time I save them."
Roessler has a special appreciation for the shape of steel because he started out close to the steelmaking process, in Midlothian's medium section mill.
"That's where I learned the steelmaking process, from the hot and finishing side to all the pulpits," Roessler says.
"I always wondered where our steel ended up. Now I can ask. In my current role, I'm the face of the company, and it's my job to ask questions." – A.J. Roessler
When a position with the inside sales team opened, Roessler jumped at the opportunity to learn more about the business. He trained under Teresa Hogan, Customer Service Representative, who has over 30 years of experience.
"She taught me the subtleties of sales, like when it's time to quit emailing and pick up the phone," Roessler says. "It's a lesson I use today; phone calls are much more effective."
Roessler then moved to an outside sales role. He's been in the role for almost a year, and his degree in psychology has helped him be customer-centric by building interpersonal relationships and putting himself in other people's shoes.
"Going above and beyond always pays off," Roessler says.
His first step in outside sales was reaching out to buyers to share his product knowledge in order for buyers to build confidence in him.
It's also confidence in developing each other that shapes the careers of people at Gerdau.
"Gerdau is making it known they're investing in their people" Roessler says. "I'm an example of that. Everyone I've worked with gave me a different flavor. Working in the mill was humbling; it knocked me down to earth. And I've learned so much about outside sales in just under a year thanks to my manager, David Adzema."