Karl Marcotte: Empowered to Be Open
by Amber Jurgensen and Swapnil Dave
It's 2 a.m., and Karl Marcotte is barbecuing gourmet sausages for the night shift at the Gerdau scrap yard where he works in Whitby, Ontario.
"The key to a good sausage is a good bun," Marcotte says.
Along with specialty buns, there is sauerkraut, deluxe mustard, and diced pastrami to put on top of the sausages. Pastrami on sausage is definitely not for vegetarians, but Marcotte has thought of them too — he made sure to get vegan options.
When Marcotte took his new role as Shredder Manager in June 2019, the last thing he thought he would be doing was grilling at 2 a.m. But here he was making a statement. And it was a big statement. His team recently accomplished a safety milestone.
"I asked, 'How do we usually celebrate?'" Marcotte says. "The team said they usually do a barbeque. I said, 'Great but what about the people who work at night?'"
The night shifts got pizza.
"I thought that wasn't really fair," Marcotte says. "I wanted to do something special. If we're celebrating safety and we're doing a barbeque then we're going to make sure everyone gets a barbeque."
So Marcotte and one of his reports, Josh Broderick, woke up at 1 a.m. to serve up a barbeque for the night shifts, in addition to the barbeques at noon and 5 p.m. for the day shifts.
Safety above all is one of Gerdau's principles and it is very strong within the culture at each of Gerdau's locations globally. To reinforce safety, 2 a.m. was nothing for Marcotte and the team. It was a simple way to say "good job."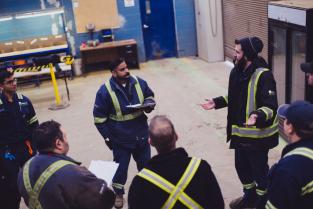 Marcotte thought the team--whether day shift or night shift--deserved to be recognized for its safety achievement.
IT'S THE LITTLE THINGS
Marcotte first started at Gerdau in 2011 as an engineer in Whitby. Since then, he has converted a useless old autowrecking site to a Gerdau facility and has worked in California on a state-of-the-art baghouse, which upheld the highest environmental standards while Gerdau owned the location.
After four years in California, he returned to Whitby as an engineer at the mill, but it didn't take long until he was promoted in his first managerial role over a team of 80 people.
"I've definitely had to learn, unlearn, and relearn," Marcotte says. "I had to develop to take on this role, and I had simplicity and empowerment in mind."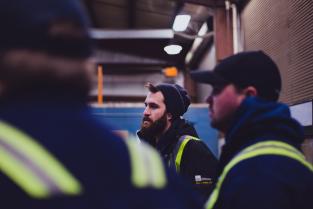 Marcotte believes openness in communication is one of the keys to keeping things simple and agile.
One of the first things Marcotte wanted to do was simplify and streamline communications by simplifying the organizational chart of his team.
"Everyone was emailing each other, copying everyone, and no one really knew who was doing what," Marcotte says. "Before, there were loosely defined roles, and I changed that to define people's roles more, which meant more responsibilities that empowered people and direct lines so they knew who to go to, making it more simple."
In his quest for simplicity, Marcotte doesn't overcomplicate things. He looks for the low hanging fruit – like a barbeque for the night shift – and ways to make change on a foundational level. And he uses openness to do it.
A SPINNING BALL
"I like to share information," Marcotte says. "I try to walk around on the floor, ask, 'How are you doing? How was yesterday's shift?'"
When he first started, a lot of employees didn't know the answer to how yesterday's shift went. There was a block in communication about what we were producing and how much we were producing.
"You want to know the numbers so you can find the excitement in the wins and dig into the losses," Marcotte says.
So he came up with another simple solution to make things, well, simpler. He put up digital screens in the front area where employees walk through so everyone could see the numbers. Marcotte even holds a daily meeting in front of the screens.
"A key to driving openness is action," Marcotte says.
That's why he continues to spend time on the floor talking with employees.
So far his tactics are working. Since he's taken over the area, the team has broken records in production, shipping, and efficiency.
"If you want to create that spinning ball, that revolving door of ideas from people, you have to actively listen then take action," Marcotte says. "Each person has good ideas and great ideas. You have to find out those great ideas. It's exponential when it gets down to the floor."