Sam Harper: Empowered to Generate Value for All
by Shai Johnson
The energy team is hard at work looking for cost savings opportunities to help Gerdau mills stay competitive in the global market.
Their efforts hit some turbulence for Gerdau's largest mill in Midlothian, Texas when the electricity market prices became so volatile that a single operating hour could cost as much as $1 million. With soaring prices, the mill began to curtail hours, leading to uncertainty about its future.
That is what ignited Sam Harper, regional energy manager, to search for new energy supply.
Little did he know that an idea to use available land and Texas' largest natural resource, the sun, would take him on a three-year journey that would lead to Gerdau North America's first solar project.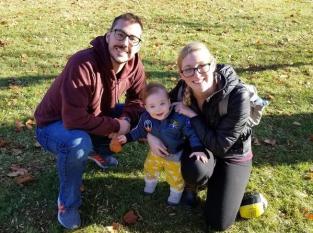 Harper pictured with his wife and daughter.
"People talk about solar, but a project of this size gets very complicated and subject to all kinds of regulations. In fact, I mention solar so much at home, my daughter's first word is a toss-up between mama, doggie, and solar," Harper says.
This is not the energy's team first attempt at solar. In the past, the models did not make sense; the cost was usually the factor that stopped them in their tracks.
But when Harper ran the numbers again, things had changed.
"The cost started to come down, the regulatory environment changed, conventional generators were retiring, and Midlothian had 700 acres of land that we could do something with," Harper says.
And with those realizations, plans were set in motion, but the road ahead was long and would require multiple stops.
"We ran an RFP and negotiated some attractive offers, that's when we realized our project had some serious regulatory hurdles– namely what the project team wanted to execute was not allowed," Harper says.
The energy team and several leaders spent the next year developing a proposal that proved their solar project would be a win-win.
With their proposal in hand, the team focused on consensus building. They worked with stakeholders, hosted plant tours, held community forums, and answered the community's questions and concerns.
"We met with every official that we could and walked them through how our project could work for all parties involved," Harper says.
Dean Peery, vice president/general manager of the Midlothian Mill, and Stan Baucum, sales director, "were critical in explaining how the project would benefit the city by adding jobs and $19 million in tax revenue," according to Harper.
In May 2020, all of their efforts paid off when the city council approved the special use permit to build the project with a 6-0 vote!
Now that the major hurdles are crossed, Harper thinks about the good that the solar project will do for Gerdau's competitiveness and longevity.
The solar project is scheduled to break ground at the end of 2020. And once the project completes in 2021, Gerdau will have access to competitive power rates for the next 20 years.
The solar field will directly feed the mill. When the sun hits a panel, electrons will flow across a wire to an electrode, arcing in a ladle of steel. This process will allow parts of the mill to run more hours during the summer.
The project will use Gerdau solar beam pilings. Gerdau's partner for the project, 174PowerGlobal, a leading solar energy company, manufactures its panels in the United States.
"From an environmental perspective, this is a huge win. The 200,000 megawatts of electricity generated each year is enough to offset the emissions from 13,000 homes – that's enough to offset all of Gerdau North America employee and contractor homes," Harper says. "That's something we can all be proud of!"
And how does Harper feel now that the project will commence this year?
"Seeing the dirt move will feel good. I'm a commercial and regulatory guy; most of what I do is on a spreadsheet or words on paper. It'll be nice to see the result of these efforts driving down HW67 for years to come."
And Harpers's advice to others embarking on a grueling journey: "Things worth doing take time. Circumstances will change, but don't shy away from it. Be flexible and keep an open mind to get the deal done."
To learn more about this project and some of Gerdau's other environmental sustainability initiatives, click here.